President and CEO and Director of Fine Art: Anna E Siqueiros

Anna E. SiqueirosBiography
Anna Siqueiros grew up in a family for whom political activism went hand-in-hand. Her great uncle, the renowned and controversial David Alfaro Siqueiros, whose murals depict the plight of the poor and disenfranchised, is considered to be one of Mexico's three great muralists in Mexico and around the world (along with Diego Rivera and Jose Clemente Orozco). Her father, Carlos Siqueiros, was also a political activist behind the scenes and worked hard instilling in her the the values of the cilvil rights movement and the important issues which Cesar Chaves and other political figures did in giving a helping hand in the promotion  of The United Farm Workers Union. Anna regards her passion to inspire social change through art as her birthright.After painting her first mural at the age of three with her mothers lip stick and makeup, Anna's parents encouraged her to explore her artistic curiosity. Her mother and father, Ofelia and Carlos Siqueiros, supplied her with paper, pencils and paints. The family taught her a moral sensibility of her environment and others around her that were even less fortunate.As a teenager Anna was selected from thousands of her peers to display her work at the Triton Museum of Art in Santa Clara. There she received an Outstanding Participation Award. She subsequently earned a Certificate of Fine Arts as an illustrator from Otis College. In 1989, she worked with children with cancer as an art director, and counselor for the American Cancer Society in New Mexico. Anna was also twice chosen to participate in the City of Los Angeles Community of Angels Project and sponsored by the Wilshire Grand Hotel (2000 and 2001). She painted and designed holographic-embedded life-sized angels for public display. She was published in the 2008 and 2010 calendar for the Latino heritage month for the Cultural Affairs Department of Los Angeles. In 2009, she displayed her works of art for the Jewish Community Federation. Anna also had her 1st one women show, "Paintings of A Parallel Universe," at California State University, Channel Islands. In 2010 & 2011 she participated in the Venice Art Walk, displaying her works for public viewing. 2012 she established a non-profit "Siqueiros Foundation of. the Arts"to honor the memory of her family members including Muralist David Alfaro Siqueiros and in the interim joined forces in fighting for muralist for Los Angeles mural Ordinance as well as help coordinate over 35 different artist from muralist, fine arts, Graffitti artist, photographers, art historians etc.. a public mural "La Voz de la Gente" within one day. Anna's passion is to unite others in a common cause for humanity she enjoys helping other artists, young and old. She has continued to be a member of the Venice Arts Council in Venice, Ca. She believes in sharing her abilities as an artist with others to prosper and yet still maintains commission works as well as showing her works in galleries and public spaces.Anna continues as a prolific artist and is presently working on issues pertaining to social change a quest about the artist movement of the past, present and future. She expresses through her art that it is a dance about creation and a message that she wants the viewer or the participants to feel even for a brief moment of time the experience the possibility of hope and peace is not that far out of our reach.

Siqueiros Foundation of the Arts Secretary : Nancy Siqueiros

 
Ms Zhobeida Cruz Siqueiros Foundation Assistant 

Zhobeida Cruz grew up with the desire to help people and make a difference.   At the age of 27 shortly after the passing of her husband Oscar Natanael Lemus Zhobeida dedicated her self to go back to school and become a Substance Abuse Counselor. She continued to attend the AODS/Behavioral Sciences program in 2005 she graduated San Diego City College with a certification though CAADE.   Since then she has worked for the following agencies- MAAC Project, UPAC, Mental Health Systems, San Diego Youth Services, took part in the starting of the Chula Vista Coordinating Council, she worked with community and became employed with the Family Resource Centers in the South Bay area. She has worked with both adults and teens to help them improve their lives through one on one counseling as well as group settings. Her passion working with the community continues to flourish and by helping those in need. Zhobeida Cruz is presently working as the assistant to the Siqueiros Foundation of the Arts a non-profit organization contributing her prior skills in helping the foundation to expand through her expertise in outreach programs to help those in need through creative endeavors.
Director of Photography: David Siqueiros
                                           
David Siqueiros describes his creative position as an expressionist who uses the traditional photographic techniques and the latest in digital technology to convey his images. Known for his freestyling attitude his compositions seeks to reveal that which he feels is beautiful and emotional. Lately his subjects include street artists who he spends time with on location and eventually in his studio. His preferred photographic medium is black and white, which he feels takes the viewer out of the realm of reality. In his pop art expressions, he enjoys the same effect as it allows the viewer to focus on the image itself. "Fine art black and white photography is pop art in its purest form." His life became a time-lapse after traveling for a year to almost every Caribbean island creating time lapse films. Currently David is based in Miami and is commissioned, and his work collected, by a variety of clients including the Warhol Museum, Louis Vuitton, the InterContinental and Diddy to name a few.
Director of Murals: Ernesto Del La Loza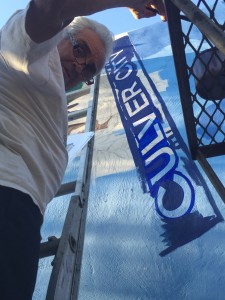 Director of Frescos: Virgina Val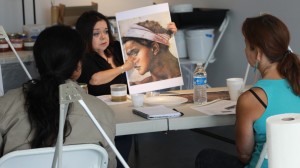 Director of Graffiti: Aubrey Grey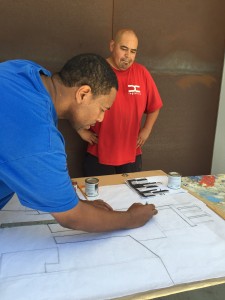 Director of Veterans Affairs & Education : Dr Harold Cannon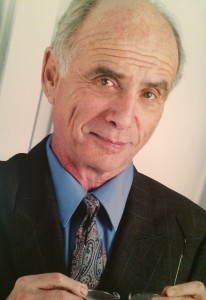 Harold Cannon- Lopez is a Veteran of the United States Military. He has worked in education for over 45 years. He earned his B.A., B.S., M.A and Ph.d. at the University of Minnesota in the fields of Education and Hispanic Literature During his tenure of 39 years at Cal State University, Long Beach.
Dr. Cannon taught Spanish and Latin American literature and cinema classes and also focused his efforts on supervising teachers and conducting method classes. He was on of the first professors to utilize video in method classes to help students improve their teaching results. Since his retirement, Dr. Cannon can be found at the Museum of Latin-American Art (MOLLA) where he lectures and works as a docent. As well as continuing is profession as an well developed actor independent movies and feature movies for stage, film and television. He looks forward in working with the Siqueiros Foundation of the Arts in which he can help veterans and others young and old with his experience and talents.
Director of Children affairs: Obersand Franco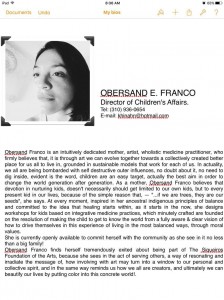 Director of Music: Zeus Villegas's
as's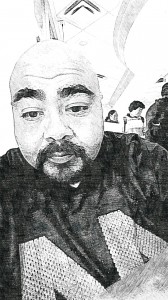 Director of Siqueiros Family Legacy: Daniel Francisco Briones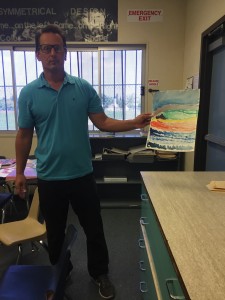 Director of Healing Arts : Marco Luna