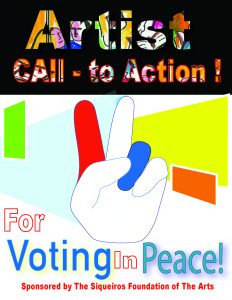 Call To Artists In the United States of America.
"It's a right and a privilege to vote"
VOTE!
The challenge:
In a quest to bring attention to the importance of voting in the 2020 election, the Siqueiros Foundation of the Arts is launching a campaign to highlight artists engaging in the voting process. Titled Artists Voting United in Peace", this campaign will provide an opportunity for artists across the United States to showcase their art while demonstrating their commitment to building a brighter future for all Americans. To be part of the campaign, artists should take a creative photograph of themselves holding up the peace sign. We encourage artists to highlight their art within the photograph or find creative ways to make the photo unique. These photos will then be turned into a video that showcases a united front of creators who recognize their first amendment right to free speech and expression as well as the 15thAmendment which bans voting discrimination based off "race, color, or previous condition of servitude." We encourage all types of artists to participate and recognize that many artists do not have the opportunity to vote, either due to immigration status, age, or a past record. The goal of this campaign is to publicly highlight talented artists who stand in solidarity with the struggle to uphold democracy and create a more inclusive, equitable country. As the Mexican muralist David Alfaro Siqueiros demonstrated, art can serve as an extremely powerful political message.
To submit your photograph, email your submission to siqueirosfoundation@gmail.com.Submissions will start September 3  2020 and will end September 20th2020. Selected participants will be notified by email with a certification of participation and will be credited upon release of the video.
Thank you for your creativity.
President/CEO
Siqueiros Foundation of the Arts
Anna Siqueiros