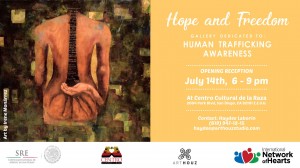 You're Invited to attend to Hope and Freedom Opening Reception
G u e s t   J u r o r
Gabriela Avila
This is a very special Event, with the purpose to express visually the needs of International Network of Hearts.
30 Artists came together to show there support.  We are very grateful. 
You are encouraged to invite guest to Show. 
Show will start promptly at 6pm. And end at 9pm. For reason beyond our control, Artwork must be taken down after show. So be prepared to take home your artwork that evening. 
International Network of Hearts and Art Houz Studio Gallery will continue to promote Artwork till the 30th of July via online sales, social media etc. 
We will contact of any sales during that time. 
Address
Centro Cultural de la Raza
2004 Park Blvd. San Diego, Ca. 92101
No Parking on premises only Drop off.
Parking is Across the street on: Inspiration Point Way and Park Blvd.
Thank you very much
International Network of Hearts
Centro Cultural de la Raza