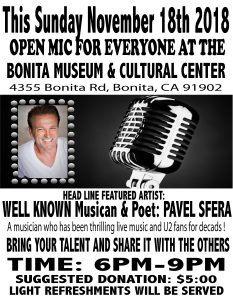 The world's leading Bono impersonator and tribute artist, Pavel Sfera
as a musician has been thrilling U2 and non-U2 fans alike for decades. A
accomplished, artist, poet, photographer, gardener, chef, and adedicated humanitarian. Pavel's relentless contribution as a humanitarian in his efforts in helping those in need stem from rebuilding homes after disasters within the United States of America to working with orphanages through out the world.He appreciates and resonates with musical artists from Chopin and Fitzgerald to Pavarotti and Bono…and not just onstage! His love of written poetry addresses an introspection to a perception andperspective in which he observes of the world around him. As a visual artist being influenced by artists like Pollack and Kandinski, he believes in using repurposed paints and materials for his works of art. Of his many life's pursuits, he believes "Humanity is a verb… and it involves you".