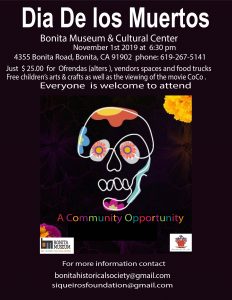 Bonita Museum & Cultural Center is giving the community to showcase Ofrendas/Alters & Vendor spaces for a traditional event of Dia De Los Muertos (Day of the dead) Starting on Wednesday, Oct 30 through- November 2 end. Please feel free to contact us to reserve your spot in this beautiful amazing event before October 25th, 2019.
Bonita Museum & Cultural Center
4355 Bonita Road, Bonita, CA 91902  *  phone: 619-267-5141  * follow us on Facebook  &  Instagram
The Museum is Open Wednesday – Saturday, 10 am – 4 pm, or by appointment.
Siqueiros Foundation of the Arts
siqueirosfoundation@gmail.com
(323) 813-8504